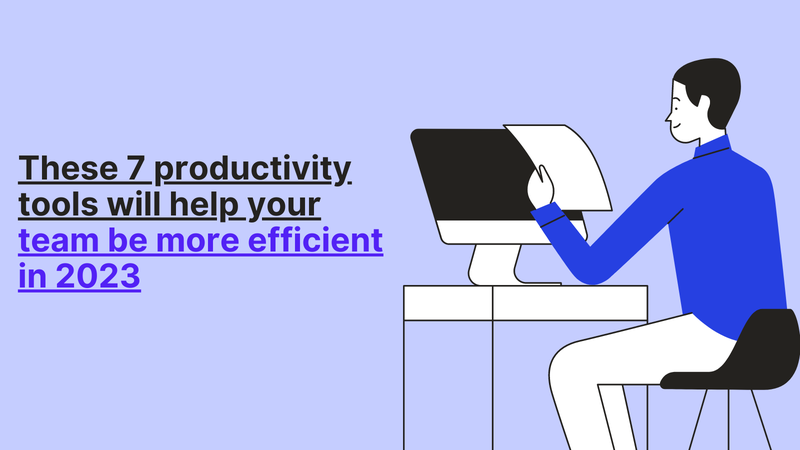 Being productive is more important than ever these days. Teams can work more effectively and accomplish their objectives more quickly with the appropriate techniques and tactics. But it can be challenging to determine which productivity tools and apps are the most successful with so many options available. We've compiled a list of the top 7 team productivity tools for 2023 to get you going. These technologies, which range from project management options to collaboration tools, will assist your team in streamlining their operations and boosting efficiency.
Trello
Team productivity is improved by using technologies like Trello. Trello is a useful project management application that enables teams to quickly arrange tasks and work together on projects. It offers a simple user interface that enables users to make checklists, assign tasks, and add due dates quickly and effortlessly. Trello also makes it possible for teams to communicate in real time, doing away with the need for lengthy emails. Teams can adapt the interface to meet unique requirements by customizing boards. Teams can connect with other apps and services using Trello's extensive selection of connections. Trello gives teams the resources they need to maintain organization, work effectively, and be more productive using these features.
Slack
Teams may quickly collaborate, share files, and communicate with one another thanks to the effective communication application Slack. It also gives team members a platform to easily find the data and assets they require. Slack can assist teams in remaining productive and organized because to its user-friendly interface and strong features. Teams can also set up automated notifications and reminders, which can assist them to remember tasks and due dates. Teams can work more productively in 2023 and beyond by using Slack and other apps.
Todoist
Teams can quickly create tasks, assign them to members, establish due dates, and monitor their progress with Todoist. Additionally, it has robust collaboration tools that let users discuss projects and share files. Additionally, the program provides interfaces with other well-liked productivity applications, like Slack and Google Calendar, assisting teams in maintaining communication and organization. Teams may quickly define objectives, rank tasks, and monitor progress with Todoist. It's a great tool for teams to use to keep organized and make sure they're accomplishing their objectives. Teams may accomplish more with Todoist by becoming more effective and productive.
Monday.com
Numerous tools on Monday.com make it simple to manage assignments and projects, interact with team members, and track advancement. Teams can stay organized and on track with their objectives because to its user-friendly layout and intuitive design. Teams can quickly see the status of their projects and tasks on their customised dashboards, and they can effortlessly delegate work to the appropriate individuals. Additionally, teams may collaborate easily on Monday.com because to its features that keep everyone on the same page. In 2023, Monday.com's potent capabilities will make it the ideal tool for keeping teams busy and effective.
Marketing Hub from HubSpot
The Marketing Hub from HubSpot may help teams work more productively and effectively. It provides a full range of capabilities that can assist teams in streamlining their operations and achieving their full potential. Teams can quickly design automated processes using its drag-and-drop workflow builder, automating repetitive operations and freeing up time for more important duties. Additionally, teams can monitor the development of their campaigns and rapidly pinpoint areas for improvement with the help of HubSpot's analytics tools. Additionally, teams can quickly interact and communicate with one another through HubSpot's marketing Hub, ensuring that everyone is on the same page. Teams may collaborate more successfully, operate more efficiently, and maintain organization with the help of these tools.
Asana
Teams may simply create and assign tasks, monitor progress, and interact with one another in real time using the project management platform Asana. Asana allows teams to divide large projects into manageable tasks and allocate each work to the appropriate team members. This makes it simpler to manage projects and guarantee their timely completion. Teams may track progress and find areas where they might be more efficient by using Asana's reporting services. Teams may more easily keep organized and on top of their work with the help of Asana, which also offers a central location to store documents and other pertinent information.
Tick Tick
Tick Tick is an effective task management tool that enables teams to communicate and monitor project progress. It contains a number of tools that assist teams in managing their workloads, including task lists, reminders, and due dates. The program can be used by teams to assign tasks to specific team members and monitor their progress. A built-in calendar in Tick Tick also aids teams in organizing and prioritizing their duties. Teams can easily stay on top of their work with the help of this application and make sure that everyone is communicating effectively.